Center for Green Economy
Time:2012-10-30 15:49:31 Hits:[]
The green economy development mode has become popular these days because of its reduced energy-consumption and low pollution emission. Combining sustainable development with business and finance, together with the construction of environmentally friendly production and consumption, plays an important role in China's development. Therefore, Peking University HSBC Business School has established the Center for Green Economy to study green finance and green management.
Take advantage of HSBC Business School's academic resources and talented professors and students. Get some high-level specialists together and do some research at the macroscopic, industry and enterprise levels. By putting forward a series of international-level scientific achievements, we want to make HSBC Business School more influential academically.
Integrating teaching with research and consulting with the aim of cultivating students to be outstanding in research ability, we focus on the training of students' understanding of the green economy and green management
We provide some green economy-related consulting services to the government, research institutions and private enterprises, by which HSBC Business School becomes more influential in society.

There are ten researchers in the center. Prof.HUANG Haifeng is the director. Additional researchers are in charge of many projects including those of the United Nations Environment Programme, Ministry of Land and Resources, Ministry of Environmental Protection and Ministry of Science and Technology. They bring many academic resources to the center. Prof. KONG Ying, who acts as the Associate Dean of HSBC Business School, is the director of the center's academic committee. He invites specialists to help with the development of the center, including Prof.ZHANG Xiangshu from Renmin University of China, Prof.GENG Xu from Peking University, Researcher LUO Hongbo from the Chinese Academy of Social Sciences, Researcher ZHOU Guomei from the Ministry of Environmental Protection, Researcher HAN Wenke from the National Development and Reform Commission, Dr.David Ness from the University of South Australia, Prof. Gustav R. Grob from the International Clean Energy Association. The center has interacted with many famous research institutes around the world, and actively undertaken research. We have held several academic conferences including the 2nd Low Carbon Earth Summit in 2012 and the Ecological Development Forum in Tongjiang County.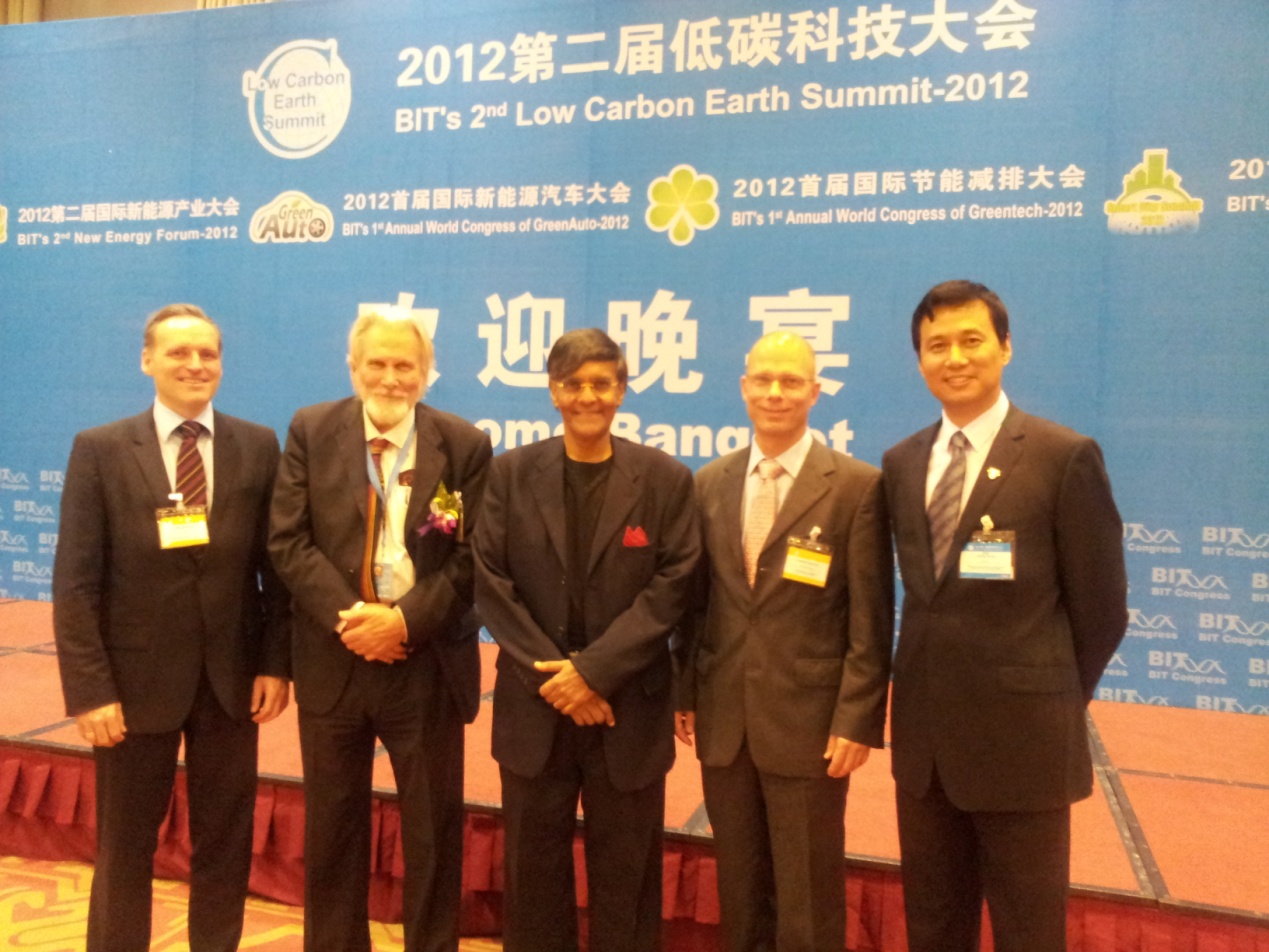 Prof.HUANG Haifeng together with Dr.Armin Sandhoevel from Germen Allianz Group, Prof.Gustav R.Grob from International Clean Energy Association, Prof. Mohan Munasinghe from Mu-nasinghe Institute for Development and Dr. Guenther Bachmann from German Council for Sustainable Development.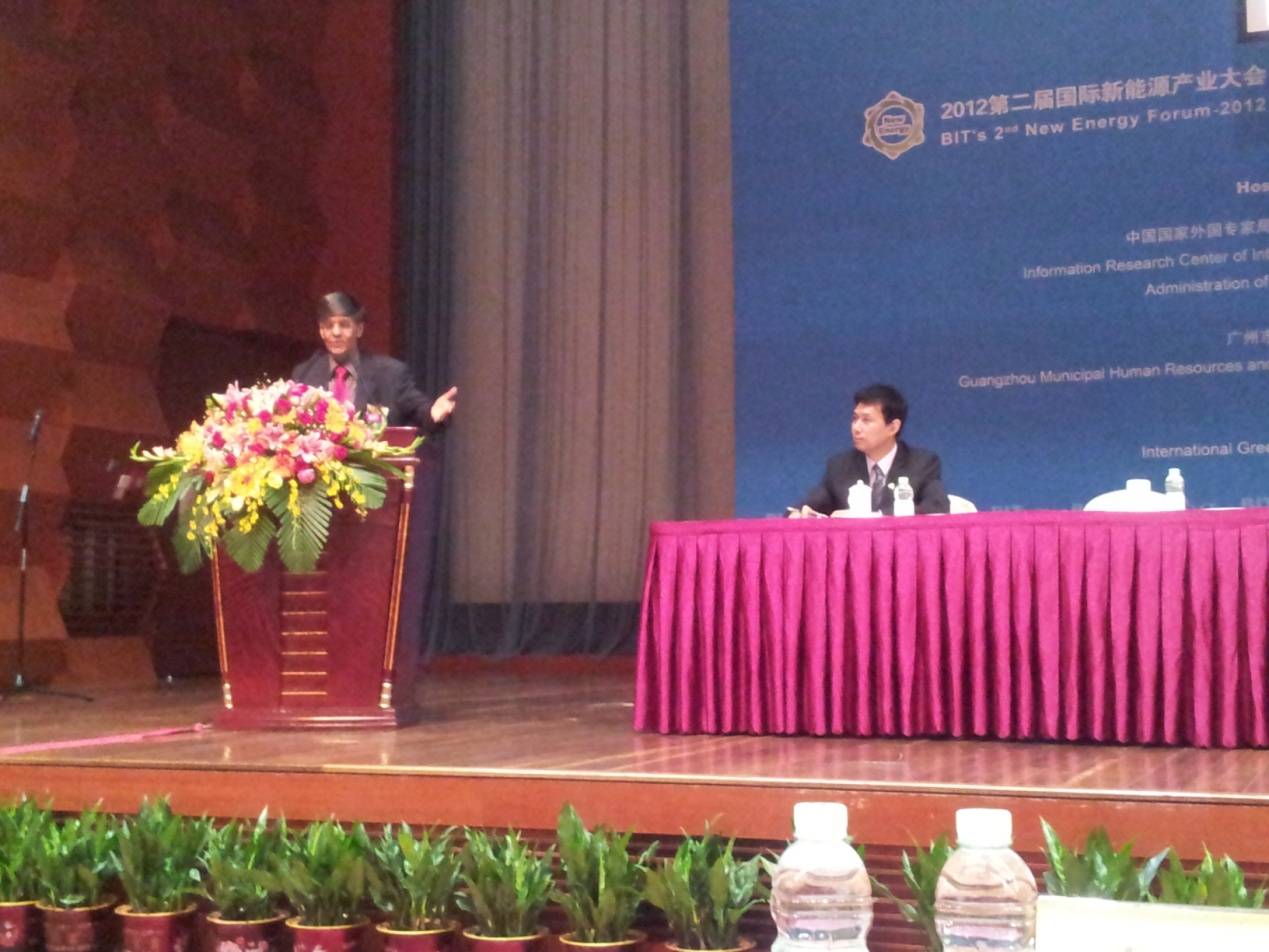 Prof. HUANG Haifeng presided over the 2nd Low Carbon Earth Summit, in which Prof. Mohan Munasinghe gave a lecture. Prof. Mohan Munasinghe and other members of IPCC together with former US vice president Al Gore shared the Nobel Peace Prize in 2007. He is also the vice chairman of the IPCC.
Already, the Center for Green Economy has taken on international projects such as "Green Economy and New Energy Research". We plan to publish two academic treatises in 2012 and 2013, namely "The Transition of China's Economy: Green transformation in the 21
st
century "and "Green Economy and New Energy". Some researchers have been supported by the Dean Foundation in the study of waste management. Some specialists have taken part in the study of ecological development strategy at Tongjiang County Sichuan Province, which wins favourable comment from some academic institutions.