Prof. Wang : Loan Fraud Put China's City Commercial Banks in Great Danger
Time:2016-02-26 14:37:26 Hits:[]
For many years, China's banking system has been providing substantial loans to state-owned enterprises, local governments and politically-affiliated firms. Then the borrowers pay off bad loans with profits from the real estate market. However, as China's economy and its property market begin to cool down, the debt issue is on the rise threatening to further undermine the country's $29tn banking system.
An article recently released by the
Financial Times
argues that Chinese banks have been hit by a $4.9bn loan fraud, and the latest victim to emerge is Bank of Liuzhou. It was discovered late last year that the bank was swamped with $4.9bn (Rmb32.8bn) in fraudulent loans.
Wang Chunyang
, a professor at Peking University's HSBC Business School, commented that corruption at city commercial banks in China has added to the overall risk in the country's banking system.
"In the future, the city commercial banks will find themselves in a very dangerous situation," Wang said to the
Financial Times
. "I think some of them will not be able to cover their losses." The article also revealed Wang's research findings that commercial bankers have taken bribes from large government-run enterprises in return for massive loans. That has left them with loan books geared towards slow-growing government enterprises and big single borrowers.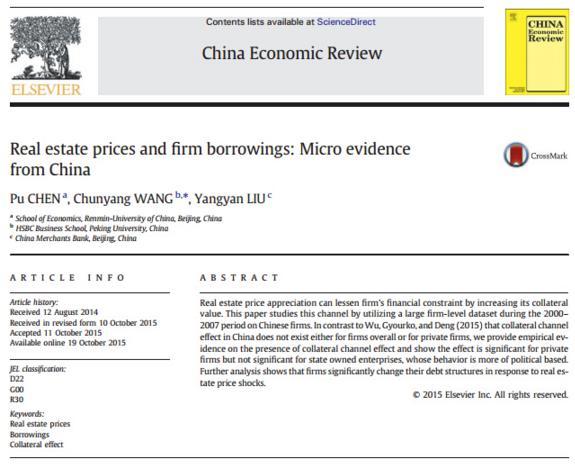 Pu Chen, Chunyang Wang, Yangyan Liu, "Real Estate Prices and Firm Borrowings: Micro Evidence from China," China Economic Review, Volume 36, December 2015, P 296–308
His research paper,
"Real Estate Prices and Firm Borrowings: Micro Evidence from China"
was published in China Economic Review late last year. Real estate price appreciation can lessen a firm's financial constraints by increasing its collateral value, and this paper studies this channel by utilizing a large firm-level dataset for Chinese firms during periods in 2000-2007. The study finds that the price surge in China's property market significantly fueled firms' debts (especially state-owned enterprises), and firms have made big changes in their debt structures in response to real estate price shocks.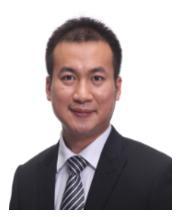 Chunyang Wang, PHBS assistant professor, earned a PhD in economics at the University of Minnesota. His research fields include macroeconomics, monetary economics, banking, financial crisis, macro finance, financial regulation, financial econometrics, and the Chinese economy. He has published research papers in academic journals including
European Economic Review
,
China Economic Review
, and
Annals of Economics and Finance
.
For the full article at the FT, please refer to "Don Weinland, Chinese bank hit by $4.9bn loan fraud," Financial Times
By Annie Jin
Edited by Priscillia Young