Dean Hai Wen's 2016 New Year Remarks
Time:2016-01-05 17:32:37 Hits:[]
Peking University HSBC Business School (PHBS) Dean Hai Wen opened the PHBS annual New Year's party on December, 2015 with some reflections and best wishes for the coming New Year. Following are his remarks.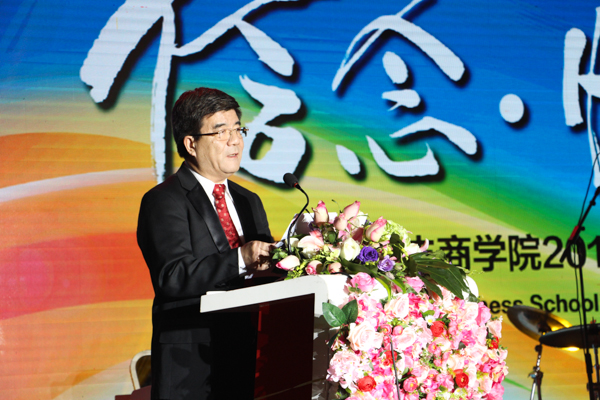 Today, in one of the top cities with the best air quality in China, we gather together to reminisce about all that has happened during 2015 and to look forward to and collect our hopes and dreams for 2016.
On behalf of Peking University HSBC Business School, I would like to express my deep gratitude and respect for our alumni all over the world, to our dedicated faculty and staff, to our hardworking students, and to all of our friends from various areas of the world. I would like to wish all of you a Merry Christmas and a Happy New Year!
PHBS had a great year in 2015. We made great leaps and bounds in our progress. With firm support from all of our faculty, staff and students we have accomplished praise-worthy achievements and have taken another important step toward our goal of building a world-class business school.
This year, PHBS made great strides in increasing our internationalization. We welcomed new faculty members who have brought their international educational experience to our campus. Now, PHBS has 54 full-time professors, among which there are 23 international faculty members, accounting for 43% of our faculty. Currently, our total full-time degree-seeking student number amounts to 930. In addition, this semester we welcomed 70 exchange students and 43 full-time degree-seeking international students. There are now altogether 172 international students at PHBS contributing to our diversity and internationalization. Many international business schools have come to visit PHBS, interested in collaboration and partnership. We currently have 100 international universities that have partnered with us, and many more that are seeking deeper cooperation with us.
This year PHBS hosted and participated in a number of academic conferences and forums. We held several financial forums to which we invited renowned scholars offering students the opportunity to learn about the latest achievements in the financial industry. These conferences have not only opened up the academic vision of teachers and students, but have also improved PHBS's influence in the region. This year PHBS also established a new financial lab, which is equipped with advanced databases and data terminals that allow faculty and students to follow the latest trends in economic and financial research.
This year our EMBA students entered the 10th Business School Gobi Challenge, and achieved 13th place in Group A, ranking first among Gobi's new teams.(The Gobi Challenge is a four-day trekking competition to foster team spirit, strengthen self- confidence, and appreciate the value of life) .Our full-time MA students achieved first place in the Fun Sports Games of PKU Shenzhen graduate school. Our teachers and MBA students stood out amongst fierce competition among seven universities and gained the qualification to enter the Business School Desert Challenge in the Asia-Pacific Region in 2016. (This competition is held among MBA students from top universities from Asia-Pacific Region). Teachers and students joined this year's Shenzhen marathon, and the PKU Shenzhen student football team, consisting largely of PHBS students, won the University Town championship. (Soccer teams from four universities, including PHBS, Tsinghua University Shenzhen Graduate School, and South University of Science and Technology of China, joined the game and contended for the championship).
Our students were actively involved in various competitions, ranging from international academic competitions and case competitions to sports and arts activities. They have devoted themselves and received honor. They are good representatives of students trained under the concept of "business with a military-like discipline," who are physically fit, spirited, and strong-minded.
Compared to 2014, the year 2015 has been relatively peaceful. Yet this does not imply that we have not progressed. Following the 10th anniversary of our school in 2014, we have concentrated our efforts on reflection, reorganization and making improvements. Over a decade of rapid development, we have made great achievements, while at the same time, we recognize our weaknesses. In the face of international and domestic changes, our school will embrace all of its challenges.
During the past year, the school reorganized the Executive Development Program (EDP) department and strengthened the management of training programs and student societies. We have put more emphasis on the quality of the training programs for entrepreneurs, striving to make it an important part in our effort to become a world-class business school. In addition, the school has made necessary adjustments with respect to MBA programs, making it more international and distinctive. We have reinforced the implementation of discipline and conduct regulations and continued to focus on PHBS's guiding concept of "business with military-like discipline." We endeavor to uphold the highest standards of academic integrity and require all students to adhere to principles of following rules and regulations. Zero tolerance is given to dishonesty, and misconduct is seriously punished in our school. We do so not only to better educate our students, but to promote the development of our society as well.   
A good business school should build up students' skill, wisdom, fitness, and moral integrity. Here, "skill" means the knowledge and ability to solve problems and promote the development of their future companies. This means providing the curriculum and practical experiences needed for students' future careers. Developing students' skills is the fundamental function of a business school. "Wisdom" refers to the experience and good judgement necessary for professional success. PHBS students should know not only how to do something but also why they do so. To students, the curriculum content may seem not that practical, but it is integral in broadening students' vision and cultivating future business leaders. Every world-class business school and university should emphasize this. Fitness not only means students' physical fitness but also their passionate spirit. Our former PKU President Cai Yuanpei once said, "An ideal personality first starts with good fitness." And that's why PHBS persists in military-style training and participation in various athletic team competitions. Fitness can lay a firm foundation for one's future success. By far, more and more business schools have realized this. Moral integrity, like honesty, fairness, honor, duty, idealism and dedication, represent the most important qualities of future leaders and business elites, which means the highest level of success. True world-class business schools emphasize moral integrity, and PHBS does so, too.
The cultivation of students' skill, wisdom, fitness and moral integrity is the mission and foundation of a world-class business school. I firmly believe that industries and society need not only people with knowledge and skill but also people with ideals, passion and a sense of duty. PHBS will continue working on these four important aspects in order to cultivate well-rounded business leaders and societal leaders.
Each year's New Year party is a time to review and summarize the past year and to look forward to what the next year has in store. The theme of tonight's party is "Believe in your vision." I hope all faculty and students firmly uphold the "business with military-like discipline" to fulfill our dreams with a down-to-earth attitude and solid and dependable work. I also hope that we can retain the confidence in our vision with the passions and dreams we began with.
Firm faith in one's vision starts with the persistence of one's ideal, love for the cause and the spirit of never giving up. In the following New Year, we should stick to our ideals and continue to run this unique internationalized Chinese business school well with our initial determination and dreams.   
In 2016, we should further improve teaching and academic research. We should work to be successful in the hosting of international forums, such as those co-hosted together with the Chinese Economist Society, as well as many other high-end academic conferences. All faculty and students should make good use of the advanced teaching facilities as well as resources at the financial lab to conduct innovative teaching and research. We should gain greater progress by remaining on the cutting-edge of research, researching innovative topics and publishing quality academic articles and research reports.
In 2016, we must pay more attention to maintaining an integrated, quality-oriented education. We will establish an education process with character and stick to a solid theoretical foundation to improve students' international competiveness. The school is devoted to educating students about etiquette and moral integrity and to enhance students' leadership and team spirit to nurture high-quality international talent with PHBS characteristics.
In 2016, PHBS will accelerate its internationalization to improve its international influence. Our school will hire more prestigious teachers, recruit more international students with diversified cultural backgrounds, and actively participate in accreditations as a global business school. Next year, our school will promote international collaboration and academic exchange by holding more international seminars to which more excellent scholars from home and abroad are invited.
In 2016, we will further improve management and service, strengthen our alumni network, and intensify the relationship between our school and enterprises to support teaching and research.
All in all, I hope that I can share with you more good news at the New Year party one year from now.
In retrospect, I feel a surge of emotion. Looking ahead, we still have a long way to go. The era we are living in calls for and also creates talented individuals. The cause we are dedicated to asks for our effort and brings accomplishment in return. As the blue-print is ready and the horn is sounding, we should stride ahead firmly. Let's cherish our honors, take pride in our responsibilities, keep our faith firm, and achieve new goals set for the year 2016.
In closing, I wish you a year of health, happiness and fulfillment.
Translated by Shao,Jin,and Su
Edited by Priscilla Young