PHBS Holds its 2016 New Year Party
Time:2015-12-31 09:03:55 Hits:[]
Peking University HSBC Business School (PHBS) held its annual party to bring in the New Year (2016) on December, 2015, themed, "Believe in Your Vision." The annual celebration brings together students in the economics, management, and finance master's degree programs. (The MBA and EDP programs hold their own parties.)
Faculty, hundreds of students, and many alumni converged on the Intercontinental Hotel, along with special guests Liang Yu, president of HSBC Shenzhen; Huang Yanming, director of Guotai Junan Securities Research Institute; Ba Shusong, chief economist of China Banking Association; and others whose have generously supported PHBS. Every year, the party includes remarks by the dean and various alumni, a banquet, entertainment presented by students, and an award ceremony to showcase PHBS's development, spirit and vitality.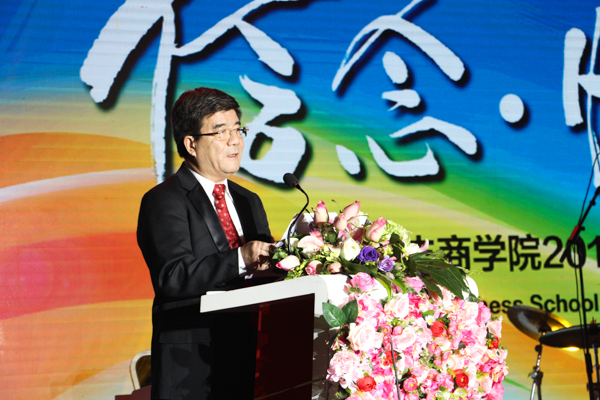 Dean Hai Wen welcomes everyone to the annual celebration.
In his remarks, Dean Hai said that during the fall PHBS welcomed six new international faulty members,70 exchange students, and 43 full-time international students, enhancing the school's diversity and internationalization. During the fall PHBS also launched a new program, the Master of Financial Journalism and announced that in fall 2016 the full-time MBA program will be taught in English. The dean further mentioned that since maintaining EPAS accreditation by the European Foundation for Management Development (EFM), PHBShas become the youngest business school on mainland China to be welcomed into theChartered Financial Analyst (CFA) Institute University Recognition Program. EPAS and CFA are both regarded as authoritative and must-have accreditations for world-class business schools. In addition, Hai stressed that opening of the new financial lab equipped with databases and terminals, student achievements in worldwide competitions, and faculty's growing presence in international conferences all indicate a big step forward for PHBS's research competence and development momentum.
"This year's theme is 'Believe in Your Vision.' So I hope that all faculty and students stick to the goal of building a world-class business school, taking concrete steps to realize your dreams, and always believe in your vision," remarked Hai, adding that PHBS will continue to enhance its research ability, improve students' all-roundcompetitiveness, and expand ties with world-renowned universities in the years to come.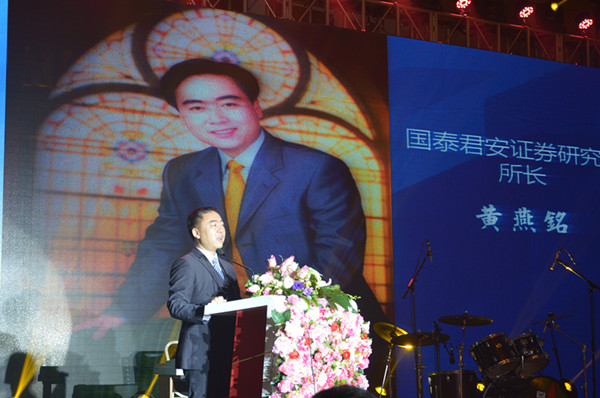 HuangYanming, director of Guotai Junan Securities Research Institute delivers the keynote speech.
Huang Yanming, director of Guotai Junan Securities Research Institute, spoke next. Guotai Junan Securities is one of the largest comprehensive securities companies in China and is listed on the Shanghai Stock Exchange. Huang said that he has watched PHBS's development and has seen many PHBS alumni included in the New Fortune list. New Fortune magazine annually honors the best financial analysts and best research teams in China. He said that in 2015, his own research institute was selected as the best research team and the most influential research institute. He also mentioned that PHBS alumni were quite eye-catching on the list. So Huang encouraged PHBS students to hold onto their dreams and learn from the success of earlier graduates.
This year, seven PHBS alumni were selected among the winners of the 13th New Fortune Best Analysts of 2015. More than 3,500 investors from nearly 1,100 institutions in the securities field participated in voting for the best financial analysts and the best research teams of the year.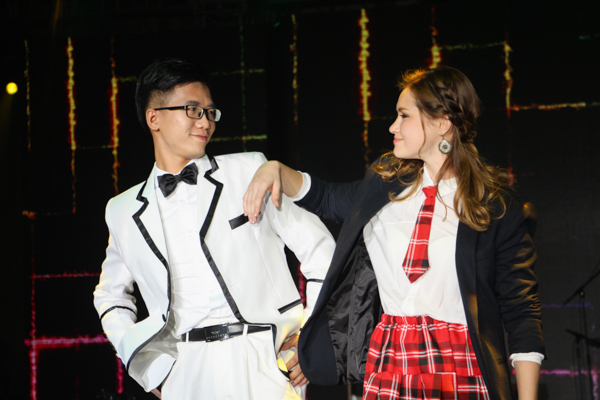 The opening show "Believe in your vision," with dances and songs, kicks off the performances.
Student entertainment featured choruses, a rock band, dance performances, and short skits with a number of students from different cultures, backgrounds and countries participating.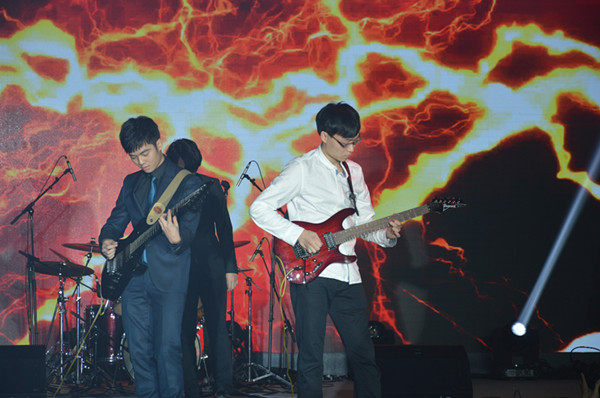 Band performance, "To 2016," sings out everyone's expectations for the New Year.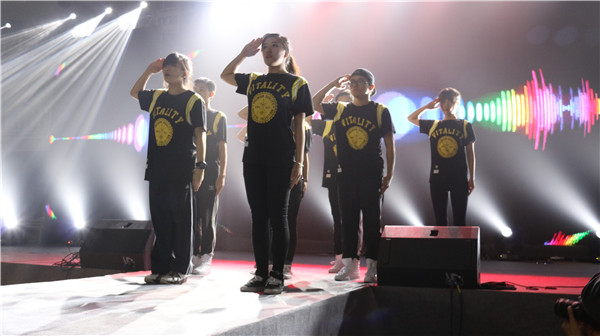 Street dance "General Order," ignited the night.
The performance, "General Order," added a modern touch to an old traditional story in which a girl joins the army to replace her father. With students' innovation, the dance was striking and performed with great energy.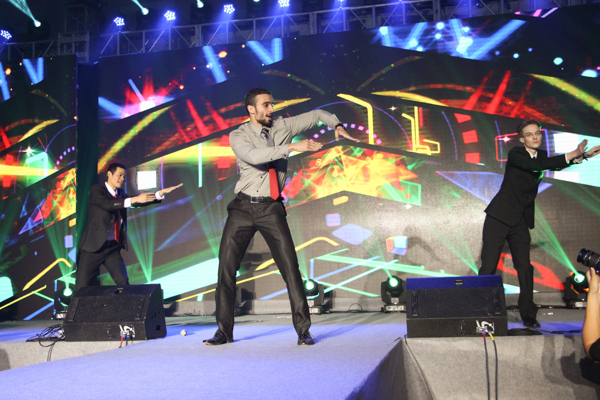 "Christmas Carnival," performed by international students, delivers new years'
greetings to Chinese friends.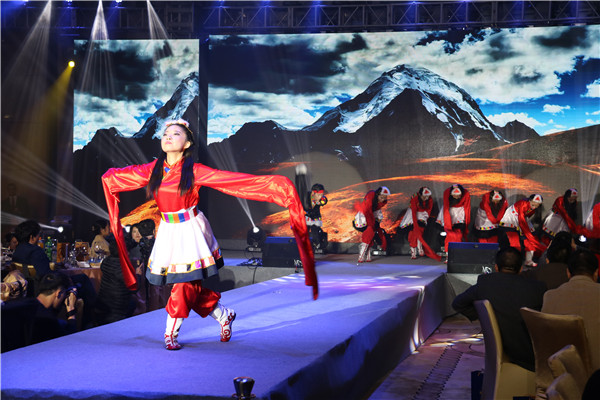 Xu Li, a 2015 finance student, performs a Tibetan dance with other students.
A traditional Tibetan folk dance expressed best wishes for the New Year. Dressed in colorful national costumes, the dancers are immersed in the festival mood.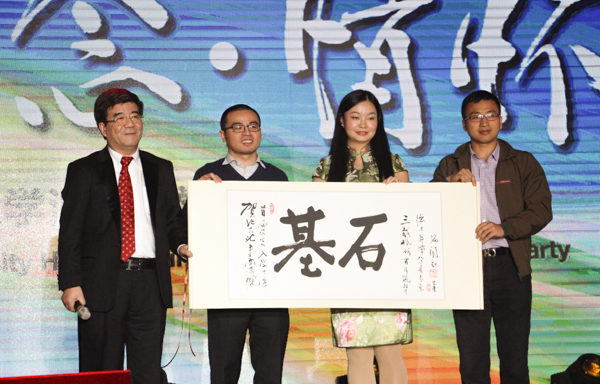 Dean Hai Wen gives a copy of his calligraphy work to alumni
of Class of 2005
After the performances, the banquet began with toasts, best wishes and awards presentations. To praise the alumni of Class of 2005 for their contributions to the school, Dean Hai Wen presented a copy of his calligraphy work, on which he wrote "Foundation Stone." It means he encourages alumni to meet future challenges with a down-to-earth attitude.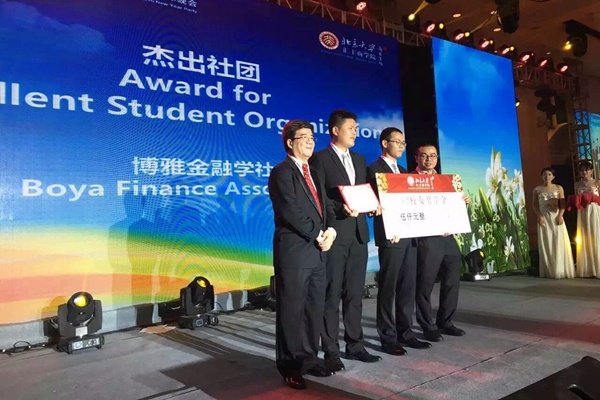 Student organizations receive awards
The party came to a close with the 2014 Finance-Economics Double Masters Class receiving the 2015-2016 Excellent Class award. The Boya Finance Association and the Commercial Bank Association were conferred the 2015-2016 Excellent Association award. Dean Hai Wen and three alumni of the 2005 Class, Xie Na, Zhang Zhenguang and Wu Xianyong, presented certificates to the awardees.
By Jin, Shao and Su
Edited by Priscilla Young