PHBS Holds the First Shenzhen International Job Market and Entrepreneurs Forum
Time:2016-04-27 13:18:18 Hits:[]
The 2016 Shenzhen International Job Market and Entrepreneurs Forum was held at Peking University HSBC Business School (PHBS) on April 22 to provide a platform for students for close interactions with entrepreneurs. The event provided the opportunity for students to learn more about Shenzhen's favorable environment for entrepreneurship and innovation. International students, PHBS professors, and entrepreneurs from 15 domestic and international companies participated in the forum. It was moderated by James Panarettos and Julian Barg, PHBS international students, who just like the other students were excited to learn about the Chinese job market since they were hoping to find a job here.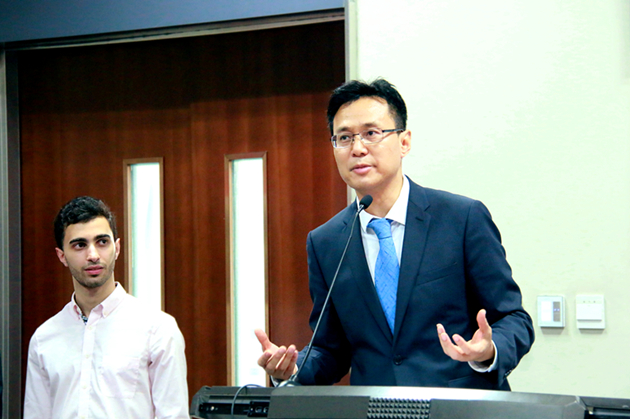 Prof. Haifeng Huang delivers the opening remarks, talking about the origin of entrepreuership and its importance in the business school.
The forum started with opening remarks delivered by Xiaopeng An, deputy Secretary of Peking University Shenzhen Graduate School; Kuishen Zhu, director of the Shenzhen Hong Kong Youth Dream Factory and Prof. Haifeng Huang, PHBS assistant dean. "The mission of our business school is not to produce working machines, but insightful leaders, who will make an impact upon society," remarked Prof. Huang. Further, the forum featured keynote speeches and animated discussions with entrepreneurs from 15 companies.

Prof. Gerhard Stahl talks about China's macroeconomic issues, including model transformation, overcapacity reduction, and more.

In his keynote address, Professor Gerhard Stahl presented on a number of China's economic issues. He argued that China's economy witnessed a rapid growth but is still confronting many challenges, such as the "middle-income trap." He said that China has begun to seek a shift from economic restructuring and overcapacity reduction to sustainable development, which is drawing the world's attention. In Stahl's view, this is an era of opportunities for entrepreneurs and graduates with a global mindset.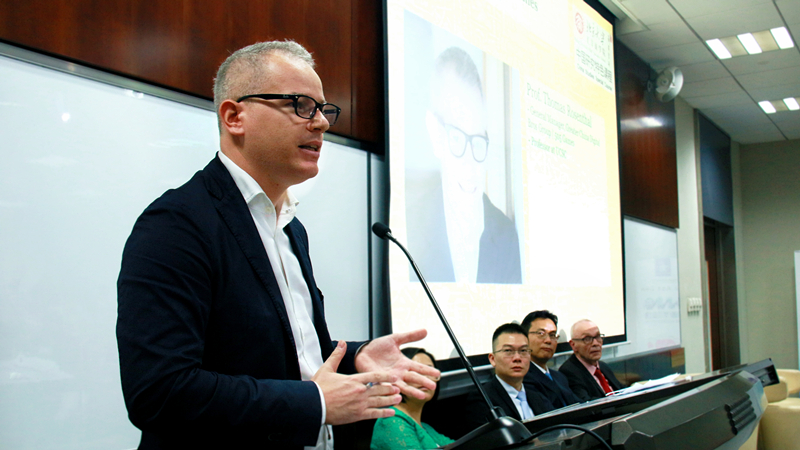 Thomas Rosenthal, general manager of Digital Bros Group, shares insights on the job market and Chinese economy
Thomas Rosenthal, general manager of Digital Bros. Group in Greater China, focused on the job market and its relationship to China's economy. He maintained that there is an obvious relationship between the growth rate and job market, saying that a 6% growth rate is the minimum for China to absorb new entrants to the job market each year. However, he held that a sustainable economy instead of a blindly-growing economy will be able to create more jobs but will lower the economic growth rate in the long term. Rosenthal also pointed out three must-have attributes for graduates: professional skills, soft skills, and loyalty.
Entreprenuers introduce their companies and take questions from students

The interaction between enterprises and students featured 15 guest speakers from different business sectors, ranging from startup incubator to accounting, finance, software, and games. Each presenter gave a brief introduction on his/her company and shared insights about what kind of graduates the company is looking for. International businesses expressed the desire to expand their market share in China, while the local businesses revealed their plans to enter the global market. Thus, they stressed that graduates with a global mindset and local touch will be the most desirable hires.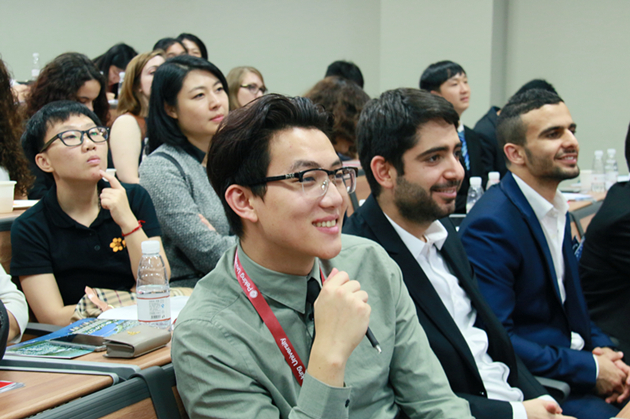 Students listen to entrepreneurs' discussion and actively participate in the Q&A session

At the end of the presentations, students participated in a Q&A session. For instance, an Indonesian student asked about the 505 Games Ltd., a subsidiary under Digital Bros Group, and its plan in southeast Asia.Thomas Rosenthal said though the 505 Games did not have much presence in that region, it would like to expand its market there in the future. Then, a Swedish student raised her concerns about whether the company would have gender preferences in recruitment. "Given your past experience in the game industry and your excellent education background, we would love to have you join our team," Rosenthal commented, adding that women, especially Chinese women, often occupy high positions in the job market.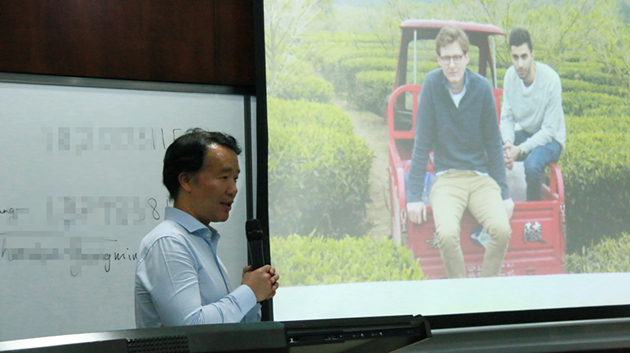 David Ko, an American student, gives a presentation on the China Studies course
Students also made presentations about their efforts to study China and its economy, including projects and activities in Prof. Huang's China Studies course. This course provides international students the opportunity to enhance their understanding of China through lectures, company visits, field study, and the like.

"The forum was very eye opening and relevant," commented Australian student James Panarettos. "We were exposed to top business leaders and scholars who were able to talk first-hand about the challenges of doing business in China, what businesses are looking for in graduates and their perspectives on the future of China's business environment." And Julian Barg, a German student, added: "The open exchange and professional organization of this event with so many entrepreneurs active in Shenzhen, Hong Kong and Guangzhou definitely encouraged me to stay in touch with the companies to possibly work for them later, and also to consider starting my own company in this area."

A Chinese-Bolivian international student, Jason L. Yu said, "We got to enjoy another enlightening event born from the very lecture room in which we take class. Through the China Studies course and events, I as a student and entrepreneur, not only gained a step towards my goal but a giant leap towards my dream." Along with three other interntional students, Yu set up Team Skynet Global which aims to provide a means for low-income communities to benefit from the fast booming technology. They won first prize last year for their business model at the HULT Business Challenge competition. The event is the world's largest start-up competition spearheaded by the Clinton Global Initiative in partnership with student teams from universities across the globe.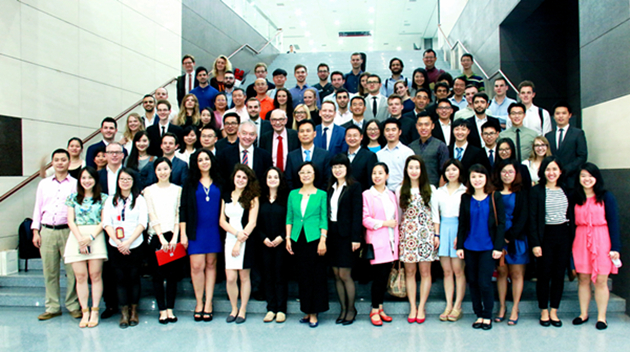 A group photo of the forum attendees

By Annie Jin
Edited by Priscilla Young