PHBS Dean Hai Wen Invited to Attend 2016 Boao Forum for Asia
Time:2016-04-13 17:40:05 Hits:[]
Recently, the 2016 Boao Forum for Asia was held in Hainan, which attracted thousands of world leaders, high-ranking government officials, entrepreneurs, and scholars to share their vision on the most pressing economic and social issues in this dynamic region and the world at large. The Boao Forum, known as the "Asian Davos," inherits its name from the town of Boao, located in China's southern Hainan province, site of the permanent venue for the annual conference since 2002.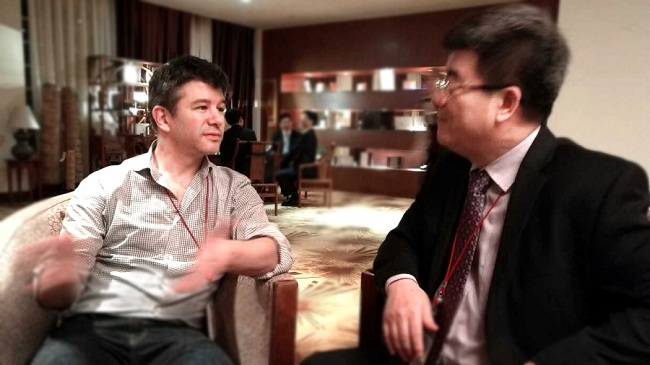 Dean Hai Wen and Uber CEO Travis Kalanick discuss the "sharing economy," which refers to peer-to-peer-based sharing of access to goods and services
Hai Wen, dean of Peking University HSBC Business and deputy director of Peking University council, was invited to attend the forum and the symposium presided over by Premier Li Keqiang, to discuss Asian economic trends and development. Dean Hai also presided over the sub-forum of economists and accepted media interviews from CCTV and JRJ.com.
As the Boao Forum focuses on economic and trade development, macro-economic trends emerged as the inevitable topic for this year's sub-forum of economists. In attendance were Ajit Ranade, chief economist for Aditya Birla Group; Bibek Debroy, member of NITI Aayog; Cheng Zhiwu, professor of economics at Yale University; Gabriela Ramos, coordinator of the Organization for Economic Cooperation and Development G20; Hai Wen, dean of PHBS; Lin Yifu, economist and honorary dean of National School of Development at Peking University; and Nicholas Lardy, senior researcher at the Peterson Institute for International Economics (PIIE).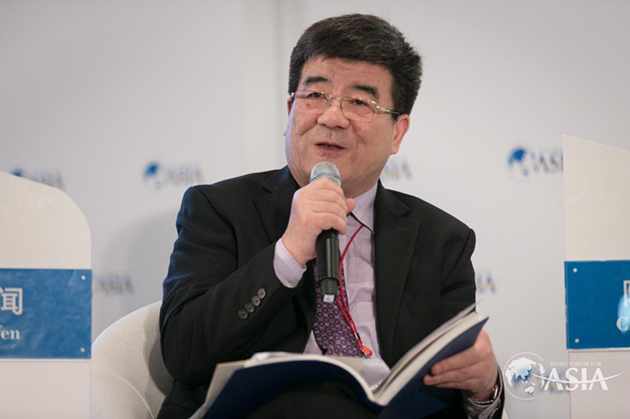 Hai Wen is presiding over the sub-forum
Hai Wen had comprehensive discussions with other attendee on macro-economic development and "Tri-Engine" methodology. Formulated by Chinese economists, it regards investment, export and consumption (three main components of GDP) together as the"Tri-Engine" that drives up economic growth. When analyzing macro-economy and supply-side issues, the methodology is often used to explain how investment, consumption and net export interact with each other to determine the economic growth rate. However, Wu Jinglian, a renowned Chinese economist, pointed out last year that"Tri-Engine" was just a variant derived from the short-term theoretical framework of Keynesian economics. His remarks have sparked extensive discussions across the nation and made the methodology a spotlight of 2016 Boao forum.
This year's sub-forum, therefore, provided a platform for economists to rethink the
"Tri-Engine"
and analyze China's macro-economic trends and related policies for the future. Hai Wen put forward several questions: What are the shortcomings of"Tri-Engine"? In the middle term and long term, what's the impetus that drives economic growth if it is not the"Tri-Engine"? How do we strike a balance between supply-side reform and demand-side management? Reform on the supply-side (supply and production) is the counterpart of that on the demand-side. The goal is to unleash productivity and maintain a competitive edge, with greater innovation, reduced obsolete manufacturing, less overcapacity, and lower tax rates, to boost the economy.
Economist Lin Yifu remarked that"Tri-Engine" methodology was not a false theory, but instead it's a reasonable framework under which investment, exportation and consumption can be measured and compared to understand our strengths and weaknesses in this regard. "If you put emphasis on supply-side reform, you shall not neglect the importance of demand," said Lin, addressing the supply-demand relationship. Yale Professor Cheng Zhiwu maintained that in the long term, supply-side reform is designed to avoid overreliance on"Tri-Engine" and reduce excess capacity. He emphasized that both the market and government are "tools" to facilitate economic development and we should take good advantage of them to ensure economic stability.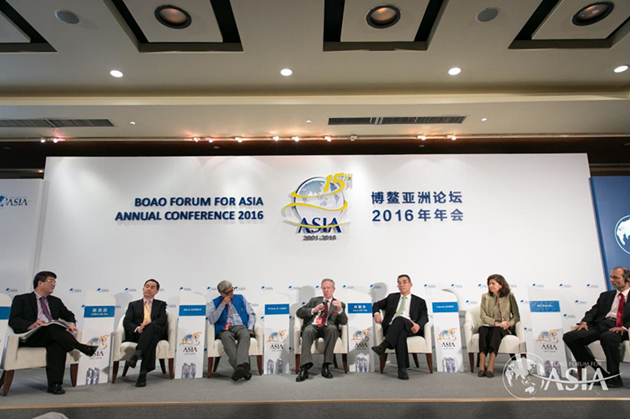 Scholars participate in an animated discussion
However, the international scholars had different opinions. Gabriela Ramos thought other economies cannot rely on Troika Theory to achieve economic development, and the central banks' monetary policies need to keep in line with supply-side reform. Nicholas Lardy emphasized the necessity of rethinking the"Tri-Engine" because the Chinese government has heavily relied on the expansion of investment and lending in the past few years., Ajit Ranade and Bibek Debroy attached great attention to government's intervention in economy: Ranade pointed out that government decisions should not become the major impetus for consumption and investment, and Debroy expressed his concerns about the Chinese government's constant bailout for indebted state-owned enterprises.

By Annie Jin
Edited by Priscilla Young