China Studies Program: The Development Road with New Policies in China
Time:2016-03-28 09:23:04 Hits:[]
Peking University HSBC Business School (PHBS) held a lecture on the topic of China's energy policy within the program of China Studies course on March 18. Prof. Haifeng Huang invited Mr. Zhuwei Wang, a senior analyst of SIA Energy, spoke about C
hina's energy policy as a guest of this course.
SIA Energy is an oil and gas consulting company focusing on China's energy market and policy. After the opening remark given by Prof. Huang about the impact of China's energy market on economic policies, Wang shared his insights on China's planning system, decision-making mechanics of the 12th Five-Year Plan (FYP), and the outlook for the 13th FYP in the energy sector.
China's FYPs are a series of social and economic development initiatives. It is chartered by Communist Party of China (CPC) as a blueprint for the country's development over the next five years. It is a dynamic decision-making process in which information is escalated from the grass roots to the top.Wang stressed the importance of the momentum generated by the sweeping reforms through the plans. In addition, he reviewed previous Five-Year Plans and their implementations and achievements.
Moving through each chronologically, Wang noted that plans consist of four different components: the principle, the task, the project, and a quantifiable target. He said that the targets for the 13th five-year plan are ambitious in the face of shrinking growth and lower demand for Chinese goods.
Wang shared with students that the first layer of each plan consists of a proposal by the CPC, and then the state council drafts outlines. After that, energy plans are created by the National Development and Reform Commission (NDRC). Layers four and five are similar to layer three and are specifically for local government and state-owned enterprises (SOE).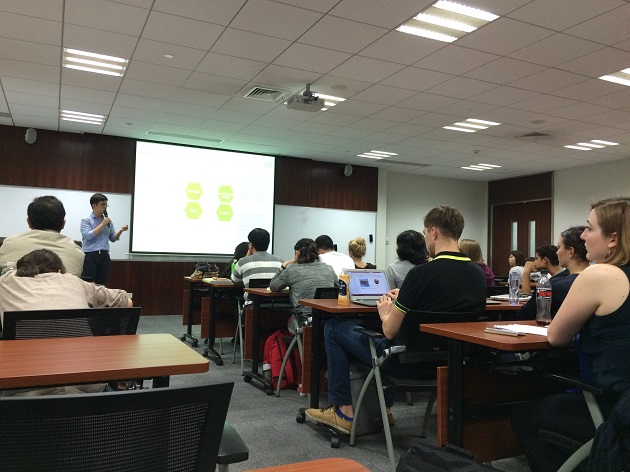 Zhuwei Wang teaching international students about FYP reforms

According to Wang,
China's five-year plans generally take up to eight years to implement, Wang said, and since 1991 the FYP has gone through five transitions, namely a "bumpy road," "smooth transition," "rapid growth sustainability," and recently "the new normal." The 13th FYP has one goal and five tenets: a well-off society and innovation, coordination, green development, openness, and inclusiveness.
In addition, FYP is intended not only to guide policy of all levels of government but also to influence strategy for state-owned and even private sector enterprises, while leaving room for them to take their own paths. Wang remarked that there can be conflicts between entities in the FYP, and a company may receive conflicting instructions from different governing bodies (local vs. corporate level). Challenges in forming and implementing the FYP include the risk of abuse of power,
an inordinate
focus on GDP, conflicting targets (green economy vs. oil price), and the threat of superficial implementation. He added that problems include that there is no penalty if companies underperform in reaching their targets, and there are different market lifespans in different industries and no sufficient data available to make the right decisions.
The lecture was followed by a question and answer session (Q&A) where students had a chance to discuss alarming issues around China's energy policies, planning system, implementation strategies, and long-term prospects. Further, the class discussed the manufacturing shift in China, the electric car industry, and feedback mechanisms for reform planning.
International students said that the lecture was enlightening and they now have a better understanding about the reform process and what challenges the government faces when implementing it plans.
They also recognized the depth and complexity of policy reformation, and expressed their concerns over government involvement and accountability to its citizens. A good take away for all was the realization that China's FYP will not only affect its people but also have a global impact upon the world in terms of world economy and energy policies.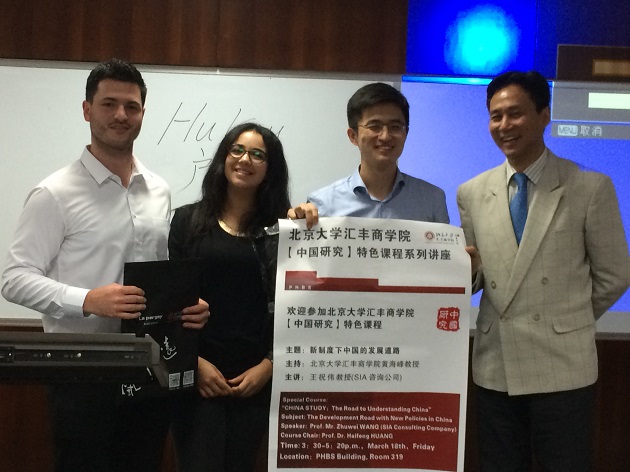 From left to right, Leif Lewinski (German exchange student), Fayrouz Souiss (full time student from Tunesia),Zhuwei Wang and Haifeng Huang(PHBS China Studies professor).

Written by Anastasia Fesenko, Christian Roberts, Lagle Laidoja & Simon Nielsen
Edited by Priscilla Young and Annie Jin