EPAS Accreditation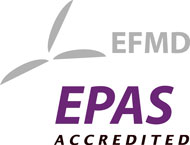 On September 15th, 2011, the European Foundation for Management Development (EFMD) convened its Accreditation Committee in Brussels, Belgium, where it was unanimously decided to grant accreditation to the Peking University HSBC Business School Master of Economics program. The committee saw the significant potential of this fledgling program and expressed the hope that HSBC Business School continue to develop over the next three years.
Upon receiving accreditation, Peking University HSBC Business School Dean Wen Hai stated, "The attainment of EPAS certification is not only a recognition of our high standard of teaching, but also an additional push for our school to develop into a leading international business program. HSBC Business School is committed to building its capacity as a bilingual institution of learning and as a culturally-aware member of the international business community."
Peking University HSBC Business School Associate Dean Zhang Huacheng said, "Future HSBC Business School projects will benefit from this EPAS certification. Not only will our research in the economics field be supported by this global network, but our reputation on the international stage as an established graduate program will also be strengthened."
In his congratulatory letter to Peking University HSBC Business School, EFMD Director-General Chris Greensted wrote, "The European Foundation for Management Development sincerely congratulates Peking University HSBC Business School and confers the EPAS accreditation. The school is among a short list of top business schools worldwide to successfully pass the certification process by showing strength in academics and international engagement. PHBS is likely to become a leading business school in China."
EFMD accreditation will benefit HSBC Business School by supporting efforts to continually improve the teaching and research standards of our faculty and students. Accreditation also allows for increased cooperation with other business schools and corporate partners around the globe, and is sure to spark new opportunities for the school's internationalization efforts.